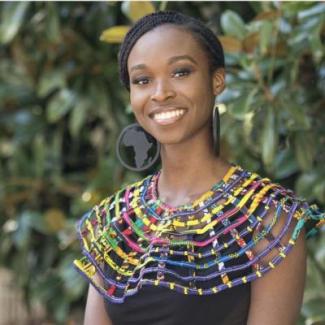 The Department of Religion is proud to announce that Samaria Divine has been selected to receive a 2022 Doctoral Fellowship from the Forum for Theological Exploration (FTE). 
FTE awarded its Doctoral Fellowships to 17 students of color to support their PhD or ThD program in religion, theological or biblical studies. Students will either receive the Fellowship for Doctoral Students of African Descent or the Fellowship for Latino/a, Asian and First Nations Doctoral Students. Each Fellow will be awarded a living stipend up to $30,000 to help further their studies beyond the coursework stage.
"This class of Fellows represents a broad range of research by, for, and with BIPOC communities beyond the academy. From biblical studies to ethics, this class reflects a future of theological education that is engaged in transforming academic and societal structures," said FTE Senior Director of Learning Design Dr. Patrick B. Reyes. "We are proud to support these Fellows and look forward to providing more opportunities and resources within theological education for the next generation to broaden FTE's and scholars' impact across the academy." 
As part of the fellowship award, Fellows will have the opportunity to attend FTE's 2022 Forum for Theological Educators in Denver, CO, prior to the annual meetings of the American Academy of Religion and Society of Biblical Literature. In addition, Fellows receive access to virtual resources and a mentor to help further their professional development, vocational exploration, and networking opportunities. 
Since 1999, FTE has awarded more than 585 fellowships to students of color and has maintained a 98 percent retention rate among its Doctoral Fellows. In addition to its fellowships for dissertation stage doctoral students, FTE provides professional development opportunities for PhD and ThD students in the first two years of their studies. FTE developed these doctoral initiatives to help accelerate the completion of doctoral degrees among students of color and to foster diversity in the academy across North America. 
For a full list of FTE's 2022 Doctoral Fellows, visit fteleaders.org/press.