Welcome to our Undergraduate Program
An undergraduate degree in Religion offers intellectually exciting classes and a chance to learn about many different worldviews within the United States and around the globe. Students develop a strong intercultural and interreligious understanding, helping them to grow as future leaders for our communities.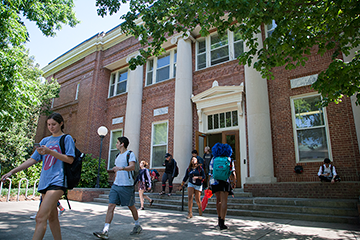 UGA is committed to fostering effective future leaders for our communities. The Religion program offers a vital contribution to this commitment by providing students with tools to understand the deep impact of religion on communities within the United States and around the world.
Program Information and Resources
Major and Minor Degrees
Detailed information about undergraduate degrees
The Religion major and minor offer students the flexibility to choose an area of focus that they are especially interested in. Students develop both personal and professional skills, including strong thinking, communication, writing, moral reasoning, and leadership skills.
Undergraduate Courses & Course Schedules
See all course descriptions and up to date course schedules. 
Syllabi
Access syllabi for current and past Religion courses.
Advisement
Contacts for Undergraduate advisement
Theta Alpha Kappa
Read more about the honor society for undergraduate religion majors.
Scholarships
The Department of Religion offers one major annual scholarship for undergraduate students. 
Careers
Several career academic, private, and public pathway resources
Transfer Credit
Students seeking transfer credit should first check with the Admissions Office to see if their course has already been evaluated for Transfer equivalency at UGA.