Image: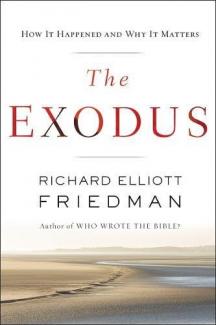 Coming September 12:   The Exodus by Richard E. Friedman
"The Exodus displays, yet again, the unique gifts of Richard Elliott Friedman, whose work always embodies the mastery of an accomplished biblical scholar, the eye of a literary detective teasing out the mysteries from an ancient text, and the skill of a born storyteller. A page-turner." (Jonathan Kirsch, author of The Harlot by the Side of the Road)
"A treasure! When Richard Elliot Friedman thinks Bible, new light shines. The Exodus is not only an argument for the reality behind the Exodus story, but is itself a revelation. Let Richard Friedman guide you from slavery to freedom, and teach a transformative Biblical lesson along the way." (Rabbi Dr Bradley Shavit Artson, American Jewish University)
"A fresh and compelling perspective on the exodus [that] demonstrates its link to the foundational concepts of monotheism and the ethical command to love all others. Friedman not only has produced a cogent analysis of the scholarship on these significant issues but also has given us a page-turner." (Carol Meyers, Duke University)
"Friedman's Exodus is accessible and up-to-date with a marvelous scholarly summary of the latest theories and data; his own Levite hypothesis may be the most compelling answer to one of the most important ancient puzzles in world history." (Thomas E. Levy, University of California, San Diego)
"Friedman's brisk and learned account of the biblical and historical evidence paints a compelling picture of where the Israelites came, their evolving view of God, and how it all fits together." (Peter Enns, author of The Sin of Certainty)
"An engaging book, masterfully written." (Thomas Römer, Professor at the Collège de France and the University of Lausanne)
"Richard Elliott Friedman has the rare ability to make biblical scholarship widely accessible and exciting.  This gripping read integrates a careful interpretation of the biblical text with the latest archaeological discoveries, yielding a compelling argument in favor of the Exodus." (Jodi Magness, senior endowed chair in the Department of Religious Studies at the University of North Carolina at Chapel Hill).
https://www.amazon.com/Exodus-Richard-Elliott-Friedman/dp/0062565249/ref=tmm_hrd_swatch_0?_encoding=UTF8&qid=&sr=