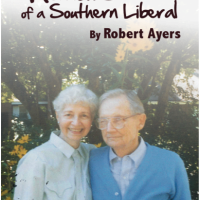 Dr. Robert H. Ayers, 99-year-old former Chaplain and founder of the Religion Department of the University of Georgia recently published his memoir, Memoirs of a Southern Liberal from Bilbo Books Publishing, 2017.   www.BilboBooks.com
Dr. Robert Ayers' life has been that of a "radical preacher" for decades, never afraid to ruffle feathers, when true Christian change has been necessary.  As an early proponent for racial integration in the South, he angered the power establishment.  As an advocate for the rights and dignity of sharecroppers, he upset the land owners.  As a believer in applying the actual lessons of Jesus Christ in everyday life, combined with his straight-forward speaking style and hard-nosed liberalism, Dr. Ayers has been the target of multiple Inquisitions in his life.  Speaking truth to power has consequences, but "Dr. Bob" has always been willing to take the temporary hit in order to slowly bring about progressive change.  
As the UGA Chaplain, Dr. Ayers was teaching courses in both Religion and Philosophy and was instrumental in the establishment of a Department of Religion.  Dr. Ayers holds a PhD degree from Vanderbilt University and an M.Div. from Yale, and is currently Professor Emeritus of Philosophy and Religion at the University of Georgia.  Dr. Ayers' determination and steely progressive resolve has not wavered in the last seventy years.  If anything, it has only grown stronger.  He still writes articles and sends them out to Christian publications.  His most recent article is scheduled to appears soon in "The Expository Times" in Edinburgh, Scotland.  He's also written many letters to the editor of the "Athens Banner-Herald."    
While a student at Yale, he joined forces with other Southern liberals in New Haven, Dr. Ayers founded a group for which he is understandably proud, The Fellowship of Southern Churchmen.  Dedicated to the causes of ending sharecropping and mitigating the effects of racism, these liberals were harassed every step of the way.  One of his fellow Southern Churchmen was literally tarred and feathered and driven to the Arkansas state line.  These setbacks only fueled their desire to change the world for the better and dole out hope, as they had been taught.
The author writes, "In my nearly one-hundred years on this planet, a lot has changed and even more NEEDS to change.  Coming from a background as a small-town North Carolina mill country PK, I had no idea that many years later I'd play a part in the integrating of one of the south's largest public universities, the University of Georgia.  I had no inkling that I would pursue a life dedicated to helping everyone, especially those that our society has repeatedly tried to keep 'in their place,' the workers, the minorities, the poor.  I had no way of knowing just how many hypocrites and greedy, selfish people populated all our churches.  That is why I became a proud Southern liberal…It's also why the fundamentalists have tried to shut me up so many times.  I've been the target of multiple fundamentalist Inquisitions."
Research Interests:
Historical and Philosophical Theology
Of note:
We do not have contact information for Dr. Ayers, but he still lives in Athens, GA