Miller Learning Center Room 148
Special Information:
For upcoming events with this workshop see the attached brochure
Religion Courses, Self-Authorship, and the Pursuit of the Common Good"
This workshop begins with a history of American higher education's view of student ethical development, including the current concern for how students develop a sense of their identity.  Of particular interest is the way that students develop an understanding of how they will contribute to the common good in a pluralistic culture.  Foster and Patterson explore how exposure to diverse religious traditions provides an excellent basis for students to appreciate their own ethical identities as they come to appreciate the best ethical teachings and practices of world religions.  This seminar helps students consider the potential ethical value of religion courses while inviting faculty, staff, and the public to reflect on the broader purposes of American higher education in its contemporary form. 
The Next Lecture in this series will be:
"Demonized No More:  Spiritual Journeys and Spaces of Gay & Bisexual Men in College

"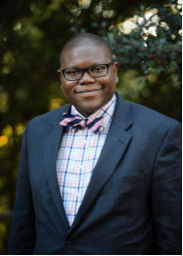 Dr. Darris R. Means is an assistant professor in the College of Education at UGA, whose research focuses on equity and diversity in P-20 education. His scholarship and research examines and advances college access and success for minoritized student populations, including Black and Latinx students; lesbian, gay, bisexual, and queer students; and low-income students. Before moving to UGA, Means finished his PhD at North Carolina State University and worked for the Elon Academy, a college access program based at Elon University. Means is an author of numerous articles and has received funding from multiple agencies and organizations to support his scholarship. Means has also received several awards and recognitions for his contributions related to scholarship and social justice.