Degrees Offered by the Religion Department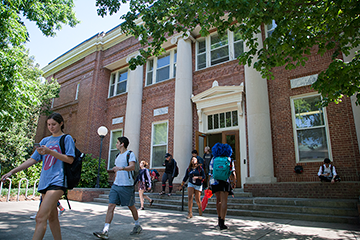 The major in religion provides a broad academic study of religion covering the various religions of the world, including Judaism, Christianity, Islam, Hinduism, Buddhism, Jainism, Taoism, Confucianism, Shinto, African Religion(s), and Native American Religion(s), as well as programs in classical Hebrew and Arabic.   The major requires course work in a number of areas of Religious Studies, and asks students' exposure to more than one religious tradition.  The study of Religion is located in the College of Arts and Sciences and in the departmental approach to religion, it demonstrates the important role of religion for the Humanities and the Social Sciences. Given this academic approach in a state supported institution, the Department of Religion welcomes students from all and no religious backgrounds, offering no doctrinal preferences or denomination orientations.
An undergraduate minor in Religion is good preparation for Law School or Graduate Study in Archaeology, Classics, Comparative Literature, History, Philosophy, Political Science, Religion, and Sociology. Career opportunities for a Religion major include education, public service, civil service, private enterprise, and religious vocations.
Arabic is both an Asian and African language. Study of the Arabic language provides exposure to various religious concepts (both traditional and modern and broadens understanding of culture, society and politics.   Modern Standard Arabic is ideally suited for students of the Social Sciences considering work or research anywhere in the Arab world (including North Africa); students of the humanities such as History, Art, Music, Comparative Literature, Linguistics, Philosophy, and Religion; or students of Applied Sciences and Business who may be considering work or research in an Arabic speaking country.
An undergraduate minor in Arabic is an excellent addition to any CV. One of the most important strategic languages taught at UGA, Arabic offers a challenge to any student with an interest in "seeing the world from another window." Combined with the Maymester in Morocco and Intensive Summer Arabic Programs that we offer in Marrakech this minor can be earned in two years. It provides a good background to anyone thinking about further studies in International Relations or regional studies in the Middle East or North Africa.
More Information
Transfer students may transfer two upper division courses in Religion to apply toward the major and one toward the minor.   For Arabic Major/Minor transfer credit please contact Dr. Kenneth Honerkamp or Dr. Alan Godlas.
A minor in Hebrew language and literature allows students access of three world religion and related literatures.  The very language is a natural gateway to the structure and vocabulary of related languages (including Arabic, Aramaic, Phoenician and others).  It satisfies a litany of intellectual aspirations across the Humanities and Social Sciences, especially cultural anthropology, history, linguistics, religion, sociology, philosophy and comparative literature.  
The Hebrew Minor prepares students to explore the intricacies of Judaism, modern Israel, and the history and culture of each.   Students will develop competence in the four skills necessary for communication in any foreign language: reading, writing, speaking, and listening.   Students primarily interested in communicating in the language of contemporary Israel will have access to immersive classes in spoken and digital Hebrew.  Those whose interest is in Biblical and Rabbinic Hebrew have the opportunity to engage primary texts.
** A Minor without Major Disruption**
University guidelines states that a minor must contain 15 to 18 semester hours of course work (with at least 9 hours of upper division course work).  If your major has a foreign language requirement you may be able to put those credits to use in completing your minor.   Many of the classes offered for the Hebrew minor may satisfy requirements for more than one area (for examples, area VI for some majors).  Consult your major's requirement list.
Some students may be able to test out of some or all of the prerequisite classes.   Placement exams for incoming Freshman are administered through University Testing Service during Freshman orientation.  Contact University Testing Service ugatesting@uga.edu for information on exam registration and dates.  Exams for all other students can be arranged at the end of Fall and Spring semesters.  Contact Amanda Walls awal@uga.edu to make a testing appointment or for questions about credit for placement. 
All course used to satisfy the minor requirement must be passed with a grade of "C" (2.0) or better.
To declare a Major or Minor, see the Franklin College Office of Academic Advising, Room 114 Memorial Hall